THE LAUNCH DATE HAS BEEN POSTPONED BY THE MARITIME MUSEUM
Due to technical difficulties in moving the San Salvador from Spanish Landing to the B Street Pier, the date of April 19 is no longer the "Launch Date". Please check back on this site each week, and as soon as we know something, we will give a new launch date, and email that info out also.
All the info below (except the date) will hopefully apply to our paddle, once we have a new date.
Here are the safety instructions issued by the Maritime Museum to all boaters for the event. We will paddle to the location just off the "B" Street Pier, approximately where the "Spectator Viewing Lane" arrow is pointing. The full details of our paddle, including a Safety Notice and maps of where we launch and our plotted course can be found below. If you are an experienced paddler, we hope you can join us.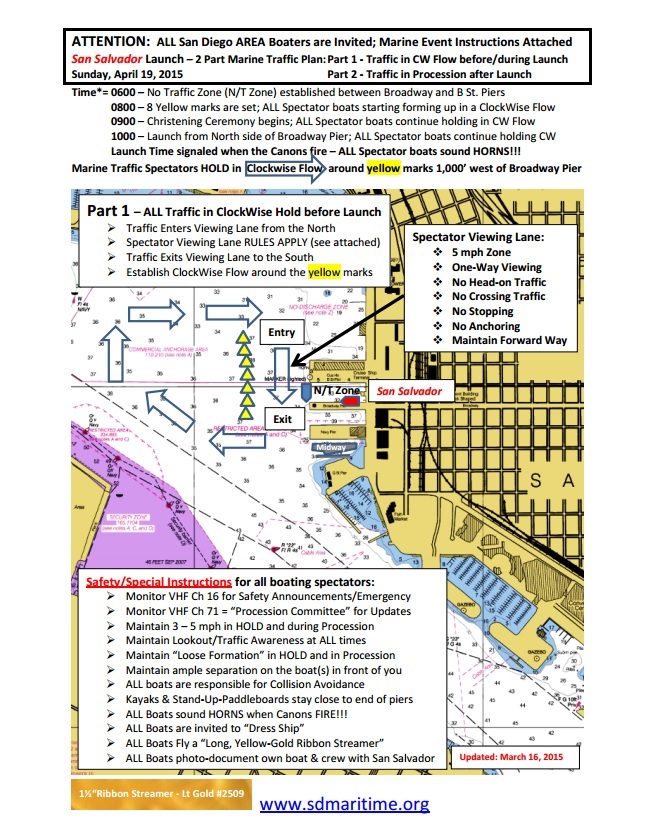 THIS WILL BE A 7 MILE INTERMEDIATE-LEVEL PADDLE
The replica of Cabrillo's flagship has been under construction near the airport, and will be launched with great celebration (TV coverage, a parade of boats, speeches, etc). We are going to have a paddle to coincide with that event. This is a good opportunity to see the launch from the water, while possibly getting some free club publicity, given the news media coverage. We will meet at the Liberty Station launch ramp, paddle down the canal, then along Harbor Island and over to the launch site of the San Salvador at the Broadway Pier. That is a distance of about 3.5 miles, so this will now be an intermediate level paddle of at least 7 miles total. We should arrive at the pier around 10 am, when they will be lifting the SS off the pier. From there they will tow it over to Coronado and back to the museum pier where she will be berthed, with several boats sailing along with it. We can paddle down to the Midway, then back to the Maritime Museum pier location to see the parade arrive there. It should be an exciting day.
BOAT RENTALS AVAILABLE
Aqua Adventures has kayaks for rent, but you must pick them up at the store. If you want a rental, you will need to call and pay in advance to reserve your boat. Their phone number is 619 523-9577.
For more info on the San Salvador project, click on these links:
http://www.sdmaritime.org/san-salvador-build/
http://www.latimes.com/local/la-me-san-salvador-ship-20140915-story.html
http://www.sdnews.com/view/full_story/25829651/article-Replica-of-Cabrillo-s-ship–San-Salvador–nearly-ready-to-sail?instance=update1
LAUNCH DATE AND TIME: 
The exact date WILL BE ANNOUNCED.  When we know the date, we will give it here, and via an email to the members of the SDKC (so sign up to get on our mailing list, with no cost to join).
DURATION OF THE PADDLE: 
We will be on the water for about 3 hours, checking out the San Salvador and the boat parade.
SAFETY NOTICE:
This is a intermediate-level paddle of at least 7 miles, not intended for beginners.
There will be a lot of power boats, personal watercraft, and sail boats on the bay during this event, so we need to stay close to shore and the end of the B Street Pier (where we can watch the SS launch).  When we go down to the Midway, we need to stay close to the piers also. When we cross the open water between Harbor Island and the B Street Pier, we need to stay in groups of 3 or more, in order to be more visible to other boaters.
Caution: The ramp at our Liberty Station launch site can be very slippery, so be careful when you walk down that concrete ramp.
WHAT TO BRING:
Bring your hat, sunglasses, camera, water and snacks for the paddle. There is a grassy area to clean off your boat, so bring water for that. Bring all safety gear and a VHF if you have one. Life jackets are mandatory, and must be worn. Please read the Disclaimer at the end of this post. 
OUR PLOTTED COURSE TO THE B STREET PIER IS IN YELLOW:
DIRECTIONS TO LIBERTY STATION LAUNCH RAMP:
From I-5 south and I-8 west, take the Rosecrans exit (which is Hwy 209 on the map). Take Rosecrans to Lytton Street (at the Sail Ho golf course) and turn left. Take the first right, into Liberty Station. Follow the one way street to Sims Road and turn left. Turn left on Historic Decatur, a one-way street which takes you back toward the entrance. You will immediately see another street named Perry on your left. Turn into the parking lot on your right at that juncture. The ramp is at the east end of that lot (LS Launch on the map). There are restrooms at the golf course and the park.
PLEASE NOTE:
These paddles are not sanctioned San Diego Kayak Club or Aqua Adventures events. The announcer of this event is not the leader of such, merely a "coordinator".
Disclaimer: We will have experienced paddlers on this trip, but they will not be responsible for telling you what is or is not safe for you to do. We watch out for one another and assist one another, but all individuals are responsible for, and manage their own safety. This responsibility includes assessing your gear, skill level, and physical conditioning relative to conditions and location, as well as making decisions about what you will or will not do. Participants acknowledge that kayaking on the open sea or bay is inherently dangerous and can lead to physical injury including death as well as property damage. Participants, on their behalf and on behalf of their heirs and assignees, agree to hold the announcers and other participants blameless in the event of such injury, damage or death. Please join us if you want to mildly stretch your capabilities, but please stay home if you would be wildly stretching them. Participants should have bracing skills, be able to self-rescue and assist in the rescue of others. They should be able to launch and/or land along the rocky bay front.